The Las Palmeras by Hilton Grand Vacations is a wonderful place to stay. Located in Orlando, Florida, this luxurious resort is close to numerous world famous attractions. With spacious rooms and great amenities, Las Palmeras Resort is the best choice for your central Florida vacation. You and your family will never forget the unique experiences and adventure this destination has to offer.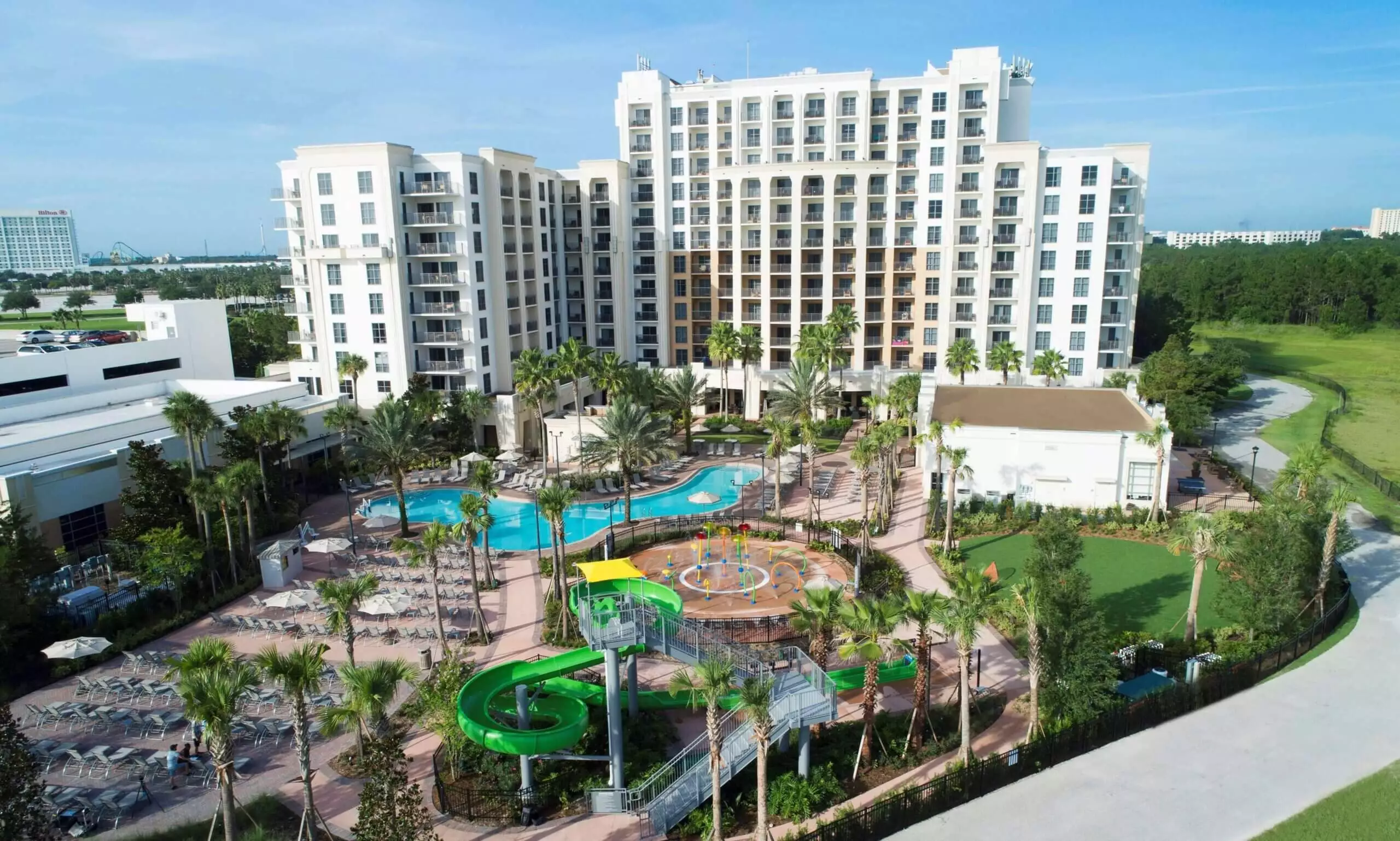 The beautifully decorated 1 to 2 bedroom units at Las Palmeras Resort grant you all the comfort and luxury you need. Equipped with 1 to 2 bathrooms and separate living areas, these villas will easily become your home away from home. Step out onto on your suite's balcony and watch a beautiful Florida sunrise. Relax on the comfortable couch and keep up with your favorite shows on the 50-inch TV. A kitchenette is also provided for you that includes a coffee maker, microwave, and mini refrigerator. Some larger suites have full kitchens. With these detailed rooms, you'll never want your vacation to end.
The amenities at Las Palmeras Resort are as perfect as the units. Sit back and relax at their gorgeous swimming pool while your children plunge down the water slide and play in the splash pad. Enjoy some games with the whole family at the sports and activity lawn. Stop by the game room and have some laid-back fun playing pool or ping pong. The fitness room helps you to stay on track with your exercise routine. Their poolside bar serves drinks and snacks, and you can also enjoy fine dining right on campus at Fiorella's, a delicious Italian restaurant. These amenities are sure to keep you busy on vacation.
Las Palmeras Resort Neighbors Famous Attractions
Orlando, Florida is home to the world famous theme parks of Disney ®, Universal ®, and SeaWorld ®. Spend a day in the fantasy world of Disney's ® Magic Kingdom where your children will love Cinderella's castle, Space Mountain, and the Buzz Lightyear ride. Brave Mt. Everest at Animal Kingdom, or explore the movie-themed rides at Hollywood Studios. At SeaWorld ®, you can discover amazing aquatic animals and watch their outstanding shows. The Universal ® Parks are the ideal place for thrill seekers. They include several jaw-dropping rollercoasters with breathtaking twists and drops. Disney Springs and Universal CityWalk house specialty shops and restaurants, ranging from casual to gourmet. The possibilities are endless. 
TimesharesOnly.com Will Assist With Your Vacation Needs
Looking for an Orlando vacation but can't find the right place to stay? Visit TimesharesOnly.com and book your next vacation at Las Palmeras Resort. TimesharesOnly.com can help you find the best Orlando timeshare.The premier company in the timeshares industry, TimesharesOnly.com, will let you choose from hundreds of listings from around the globe so you can find your ideal vacation getaway. When purchasing a timeshare, TimesharesOnly.com offers great deals so you can save while you travel. From the comfort of your home, you can choose that vacation destination you've always dreamed of. Visit TimesharesOnly.com today.